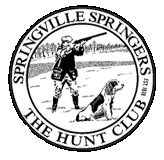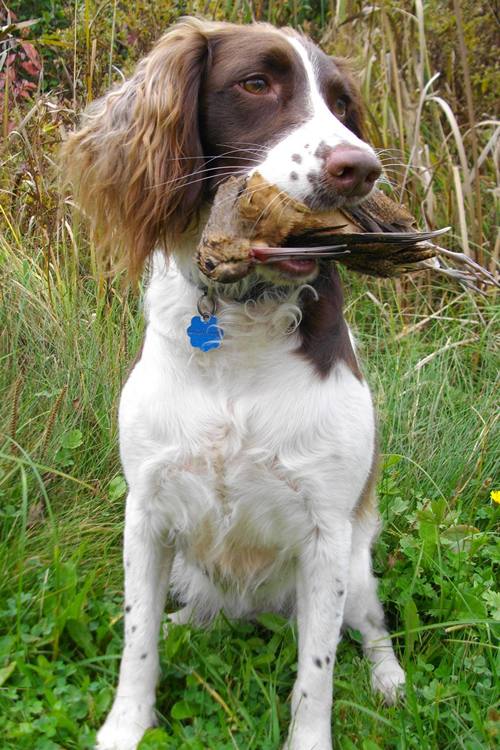 "An update for you on Birdie.

Birdie is two now, and she is thriving here in New Brunswick. We have lots of space for running and training. She is the sweetest and most loyal dog you could ever imagine. Her natural talent surprises me every single day, so much that I struggle to keep her challenged at times, which is a good thing.

We went out for woodcock on opening day, and she quickly put me on birds. We had a great season opener, and she performed like an old pro. She easily stays in range, hups to flush, retrieves, and delivers to hand with a soft mouth. I couldn't ask for a better hunting dog, and canine buddy.

Thank you for doing what you do...I am reaping the benefits of your hard work and dedication."

Murray Somers, New Brunswick, Canada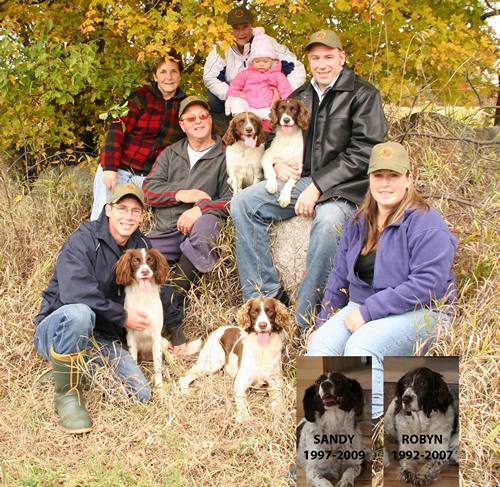 "Family get-togethers not only include people of our family, they include each of our Springville dogs. Whether we are at our hobby farm in Brighton, Ontario or our cottage in Prince Edward County, our dogs are equally excited to be together.

Springville Springers have completed our family with kindness, gentleness and explosive amounts of energy.

THERE IS NO GREATER LOVE!!

Thank-You Frank and Bonnie for introducing us to Springville Springers so many years ago."

Edward, Carolyne, Darcy, Sam, Madison,
Brooke and Jay

The Christopher Family ,Brighton Ont.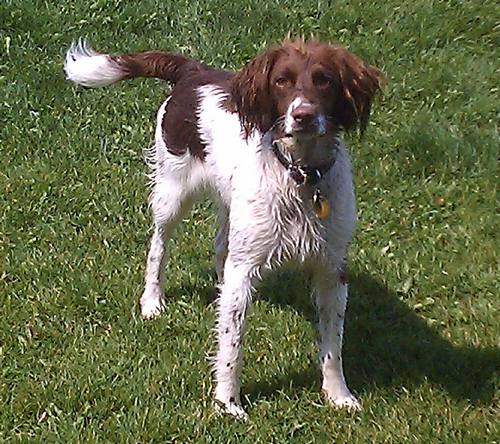 "First, I would like to say thank you so very much, she is the greatest thing ever and my life has changed since getting her. She is everything I imagined she would be and then some. Joanie is as playful as can be and a great pleasure to have around but when it comes to "work time" she is very focused and dialled into what is going on. She works and plays very hard. This season was her first hunting, and considering my limited time training her due to work she did exceptionally well as we got 2 pheasants and a handful of grouse on her first hunt. She is a great companion to have on my trail-runs, I try to go until she gets tired and have yet to succeed in doing so. She pushes me like no other, and seems like she gets mad that I can't go any further; 12 miles and she still finds the energy to swim in the river on the way back down! Joanie is probably the smartest most lovable dog in all of Montana...thank you."

Zach, Bozeman, MT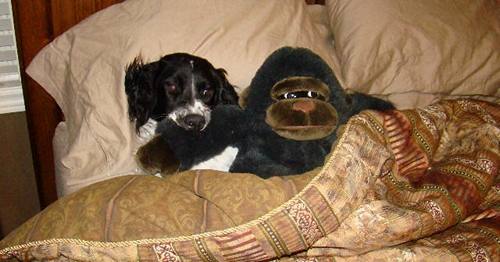 Hi! Here I am ...my friend is George the gorilla and we're waiting for our bedtime story. I am healthy, happy and extremely handsome. I love people, cats and other dogs. I enjoy playing in the snow with my best friend Rudy the golden retriever...life is good! Gotta go.....prime rib for dinner. Love, Axel"

The Hartley Family, Windsor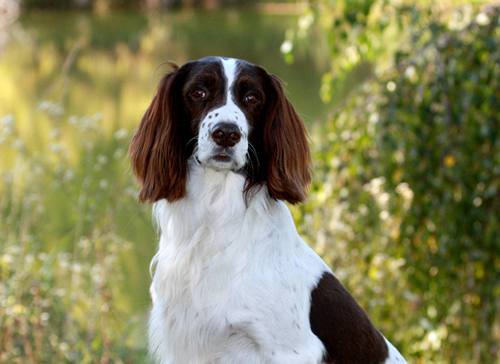 Winchester celebrated his 11th birthday on September 2009. He is a faithful companion, full of life and character. He has travelled across Canada a couple of times. On several occasions, he has been identified as a Springville Springer in the Calgary and Toronto airports, as well as dog parks and the grocery store parking lot!

This past spring, he started agility classes - you are never too old to do something new. He has done several public demonstrations of his skills, and brings much joy to those who meet him. He is extremely healthy, most are surprised when they find out his age. Win fetches birds when he has the opportunity, Canada goose being his favourite. He has enriched our lives, thank you for such great dog!!

Dr. Connie Miller, Ontario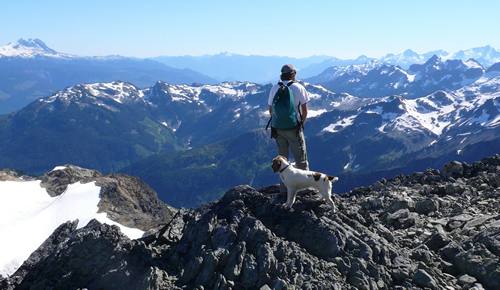 I have attached a few pictures from summer 2007. Nelson is a great hiker and has even summited a couple of mountains. He is also a great swimmer and is always ready to get wet. He loves the beach and the snow. He always makes people smile because he is such a happy dog. We live downtown Victoria and often tourists stop to watch Nelson play in the park. He comes to work with me at an accounting office and is very successful at getting otherwise serious people to throw his ball around the office.

Sarah & Dwane Carty, British Columbia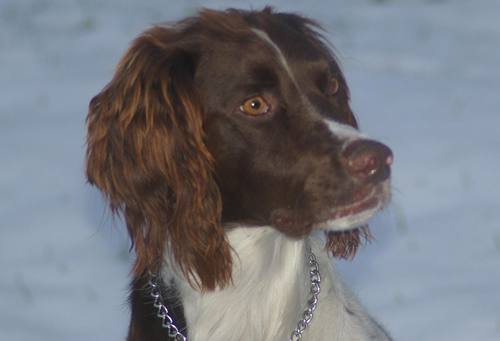 "Here is a photo of Limestone Henry. A while ago one of my daughter's friends chose to do her science fair project on "testing the intelligence of dogs". She tested more than 30 dogs of different breeds and ages from Border Collies to Poodles and everything in between.
Henry was the smartest of the entire group! (Second place wasn't even close). I am constantly amazed at wonderful combination of intelligence, athleticism, and manners of your Springers.
Henry is just an absolute sweetheart, the kids adore him, and he's still the fastest dog into, through, and out of the water I that have ever seen."

Jim Tidman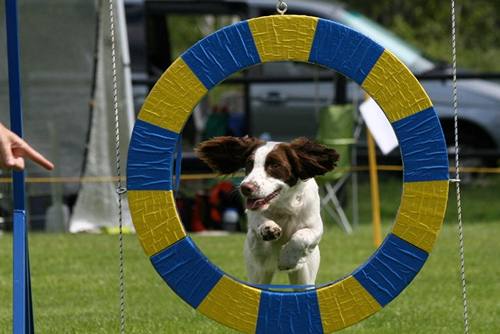 "Enclosed is a photo of Springville Bravado. Although he is too young to compete, we have begun agility training and he has taken to it like a ... well like a Springer takes to anything that might be fun. In this photo he was 10 months old, flying through the jump, carefully watching my hand for directions. This hoop is one setting higher than he would normally jump at this stage of his training -- no problem for "he-who-jumps-straight-into-my-arms-from-a-standstill!". I LOVE the sight of springers flying."

Monica Vogler, British Columbia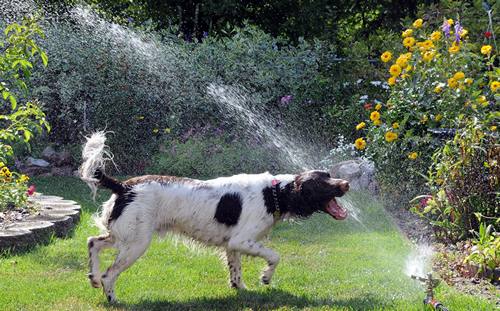 "Riley is in his 3rd year already and falls in love with life anew every day!.....58 lbs of pure energy, he would live in the water, except to eat.. (Priority #1)...The gardens take a bit of a beating from his hi-speed antics, but flowers are surprisingly resilient.... He draws many compliments on his handsome appearance during his frequent walks around the neighborhood....Our property is kept safe from marauding squirrels, crows, and the odd deer by Riley on the run.... He is a wonderful companion, and very intelligent ! Thanks Bonnie and Frank."

Terry Flynn
Thunder Bay...Ontario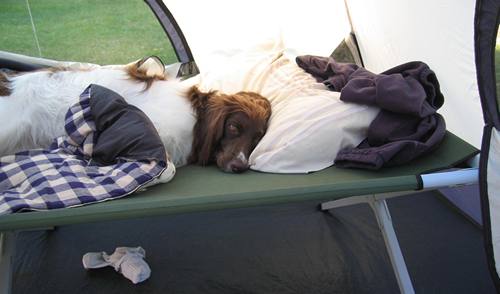 "Chester just celebrated his 2nd birthday and the little fat brown faced pup has exceeded every expectation that you or I could ever have imagined. He has grown into a beautiful, intelligent, loyal companion. Chester treats every day as a new adventure and the only thing bigger than his love of life is his thankless affection to make you happy. Hunting, swimming, camping or taking it easy at home in front of the fireplace -- he is a champion. Springville Springers can be as proud as I am of Chester and his heritage. Anyone looking for a great springer spaniel only needs to meet Bonnie and Frank O'Grady for their wishes to come true."

Gary Davidson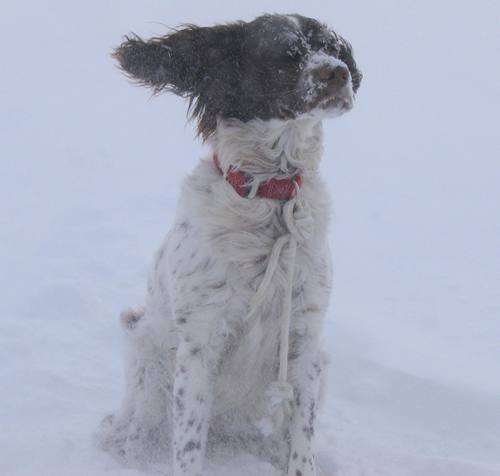 "Enclosed please find a few pictures of Miss Jenny, and my heart filled thanks. Jenny has truly become the greatest companion I have ever had. She goes everywhere with me, she ice fishes, goes summer and winter camping, she boats, she paddles, goes rock climbing, swims like a champ and hunts like no other dog I have ever had. Jenny is very loving, unbelievably smart and great with other dogs, cats, farm animals, and children. Jenny is hunting well, no thanks to me. She flushes well and retrieved four grouse on her first trip out when she was less than six months old. Thanks to good breeding most of her hunting abilities came instinctively with little training, she just needed a little encouragement and praise. I don't know how I could really express all that she is; she is truly a great companion."

Thanks,

Michael Hindriks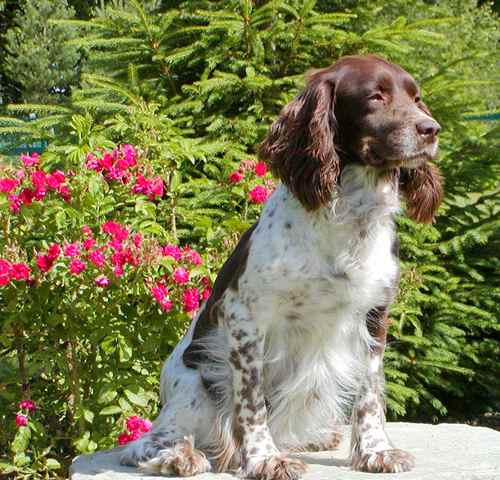 In memory of Alberta Storm (Berta)
"She had slippers for feet and froggy spotted legs, ears that flapped so beautifully in the wind we always thought "Flying Nun eat your heart out ...here comes Sister Berta".
The softest hair and the most beautiful kind eyes. She came into our lives and became queen of the house, strong, bossy, sweet and funny. All too soon she was gone. We don't mean to be greedy but we wanted her around longer. We are so lucky to have known her.

Thank you Frank and Bonnie for letting her come our way....." The Katsumi Family

Berta received 1st & 4th in CKC Open Competitions. She produced 5 Field Champions. Without question, Berta produced the smartest, most trainable spaniels we have ever owned. For many years she factored heavily in the pedigree of every spaniel in our kennel (aside from our stud CFC Sweeper).

Berta you were the best!!!!!

Frank & Bonnie O'Grady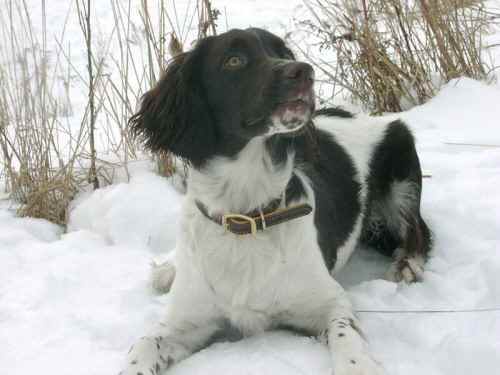 "After visiting several different breeders we stumbled upon Springville Springers, and were we ever impressed! Not only were Bonnie & Frank friendly, professional and very knowledgeable, but their installations were clean, organized and their dogs overall genetics are far superior to the other breeders we visited. However, the true delight was when we went home with a beautiful pup, which we named Maestro Chaps. He is now 8 months, and has been more than wonderful! He is very loving, active and a star pupil at obedience school. He is also very popular at our dog park and has many 2-legged and 4-legged friends. Maestro is a pure joy to have as a pet and friend! Thank you!"

Alexandra and Raynald, Toronto, Ontario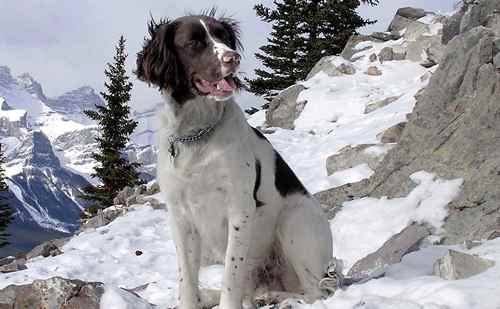 "We have nothing but praise to say about Oscar. Today he retrieved 10 birds, most of them running and was happy to do it. As far as we are concerned he is the nicest dog we have ever seen, and so gentle...like a gentle giant"

Gaby and Diane, Canmore, Alberta, Canada

(Note - Gaby & Diane have had a 2nd Springville Springer called "Felix" and now have a female pup in 2020 called "Lexie")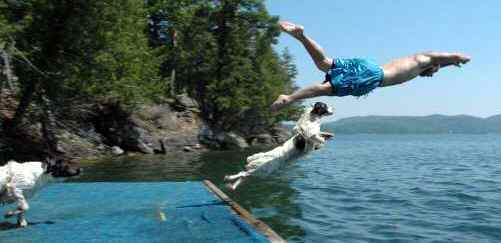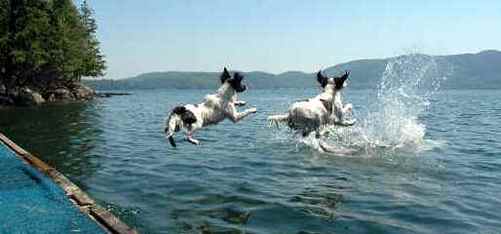 " Angus is three and a half and Stanley is one and a half. They have a huge capacity to learn and make me laugh every day. They spend all their weekends with me at the cottage.

In the winter we snowshoe across the lake and in the summer we are always in the water. This shot is of them chasing me into the lake. They swim for hours every day, whether with me swimming or beside the canoe.

They are pictures of health and my vet is perpetually impressed with them. The entire experience of meeting you two, seeing your facilities, walking with the others dogs and visiting with Sweeper was ideal. I enjoy watching their athleticism on our daily walks through the
woods. Thanks again."


Paddy, Ottawa, Ontario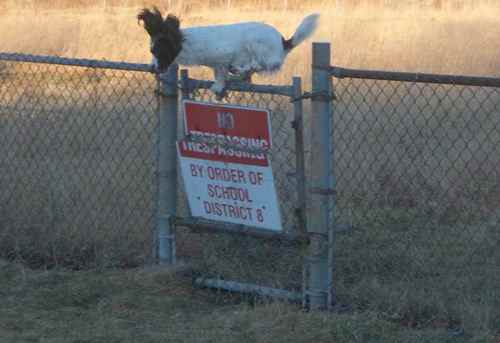 "Here's an up to date picture of LILY , she is the athlete that I wanted , I can't say it enough you guys really know your dogs. Lily will soon be 2 years old, she's my 4th kid, my hunting buddy and even my wife's good buddy too. This summer we will compete in some hunt tests in Maine, USA. She's 36 lbs. all power, nose and one smart hunter as you can see from the picture this is a 4 foot fence enclosing a condemned soccer field where we train and go for runs and its no obstacle for her. The new pups on the sight look great, keep up the good work. Oh yeah! this season's take was 28 ducks, 12 grouse, 23 woodcock and 3 rabbits"

John, New Brunswick, Canada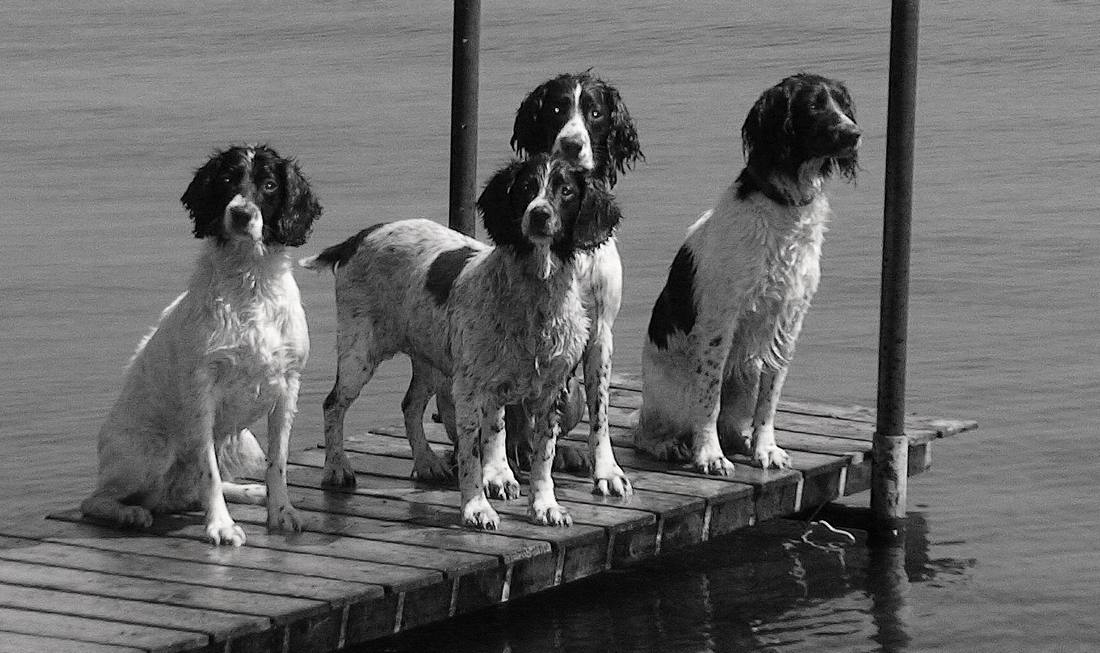 Our 40th Anniversary Photo Grand prize winner
Brooke Christopher
We received hundreds of wonderful photographs during the past twelve months and we thank you all for your participation. The twelve monthly winners in our opinion were outstanding. We chose Brooke's photo as our grand prize winner because we believe these four Springville Springer Spaniels typify the good looks, structure and calmness that we strive for in our breeding program. The black and white photo is timeless, the composition is balanced and made it our clear winner.
October 8 2010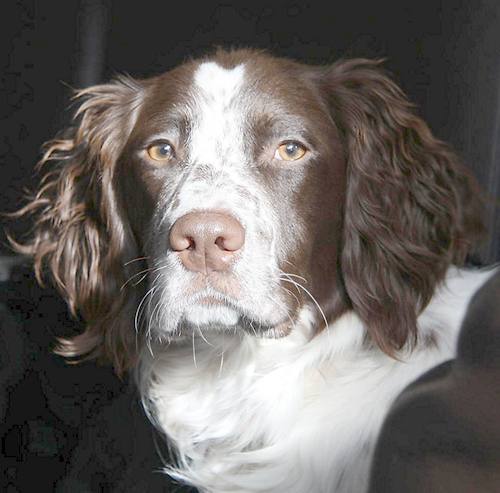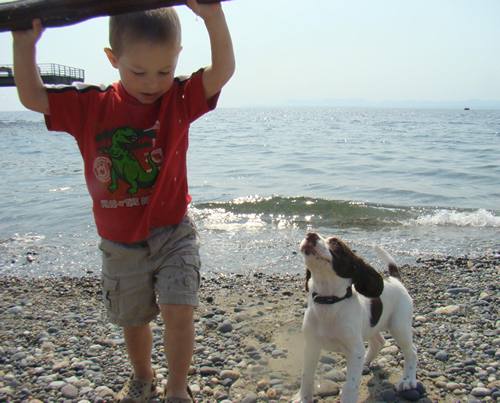 Charlie

The McCourt Family - British Columbia
October 2009 Winner
River
Catherine Shand - Ontario
November 2009 Winner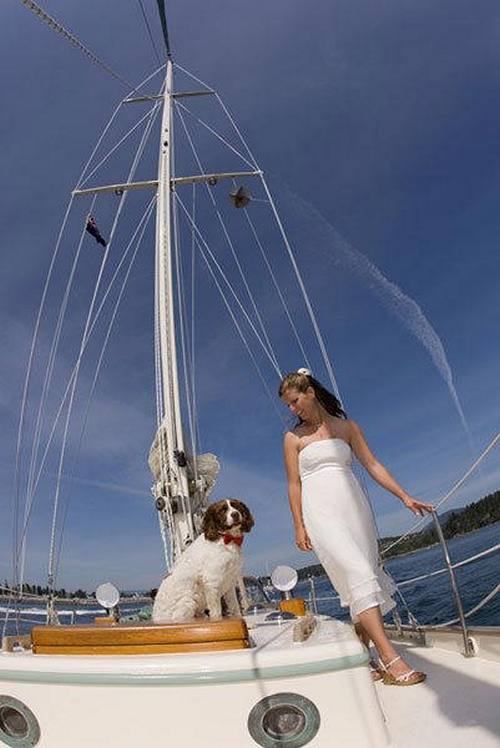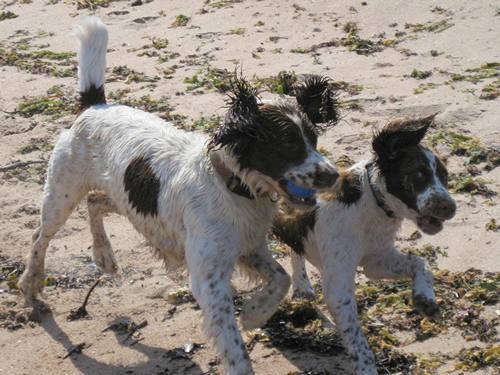 Nelson

The Best Man at Sarah & Dwayne's wedding in British Columbia
December 2009 Winner
Callie & Dixon

Lianne Logan - Ontario
January 2010 Winner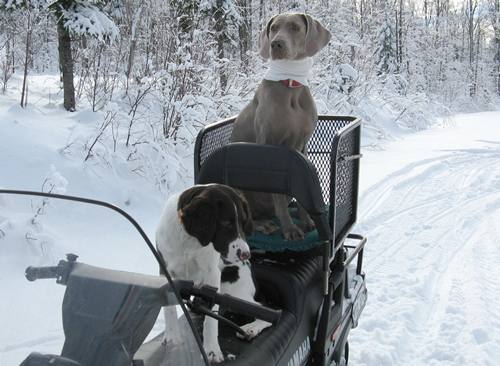 Winter in Quebec
Oreo & friend

Sharon Breckenridge - Quebec
February 2010 Winner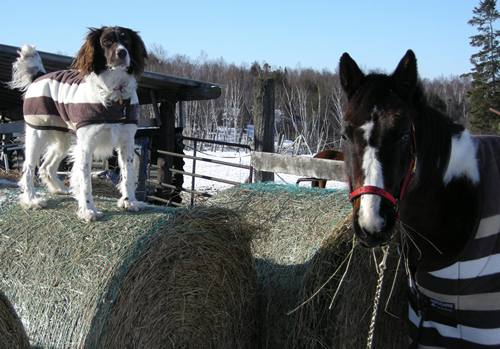 Matching blankets

Nancy Titton - Ontario
March 2010 Winner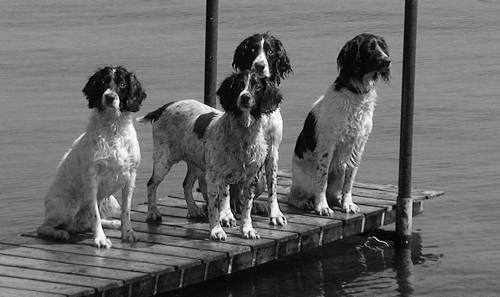 Opening Day at the Cottage

Brooke Christopher- Ontario
April 2010 Winner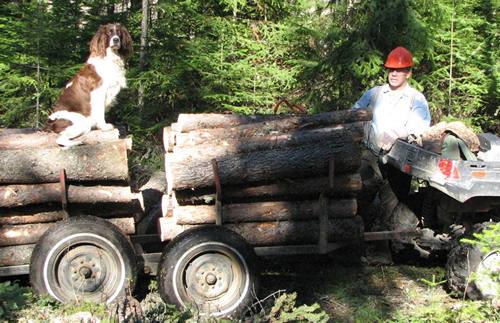 The Supervisor

Vernon Kelly's Bailey
May 2010 Winner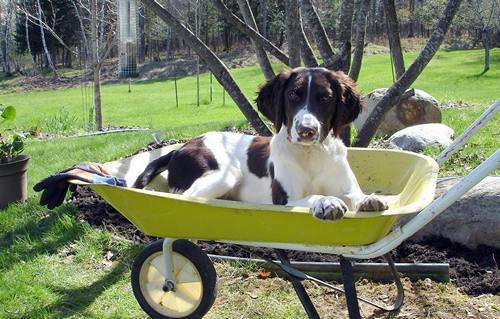 Waiting for a Ride
Oreo

Sharon Breckenridge - Quebec
June 2010 Winner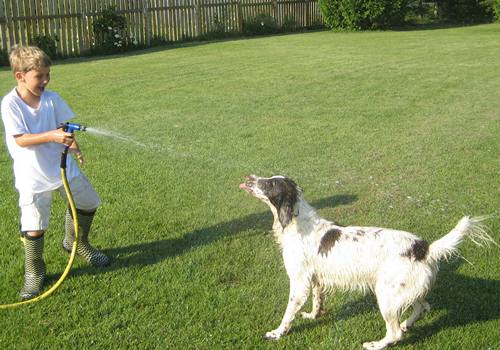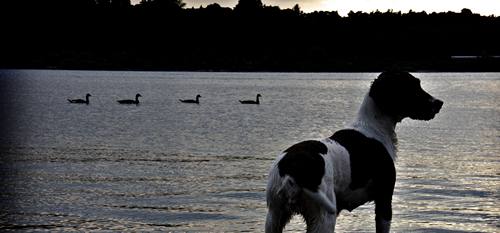 Summer Showers

The Gabel's Sophie
July 2010 Winner
The Bao's Millie

August 2010 Winner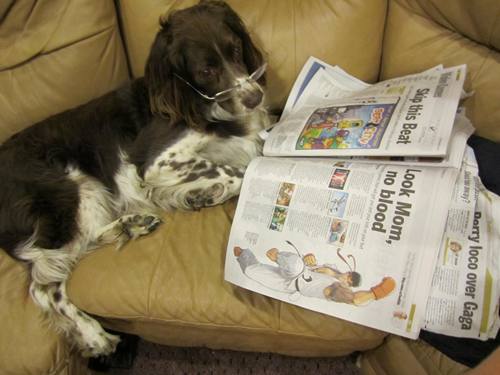 The Chivers' "Smart Springer"

September 2010 Winner

Email: spaniels@nexicom.net Text Bonnie at 705 872 6303 or Frank 705 760 6424
P.O. Box 221,
495 County Road 21, Millbrook, Ontario, Canada L0A 1G0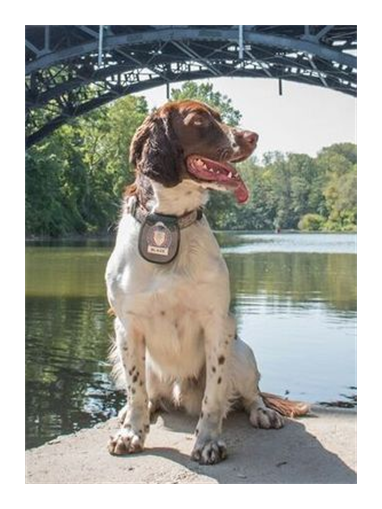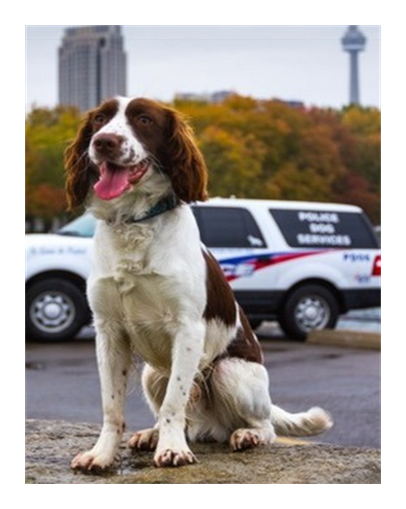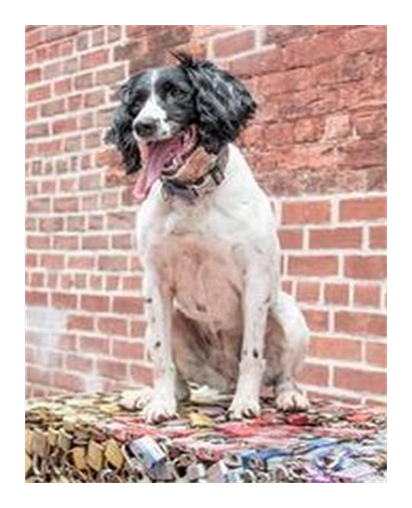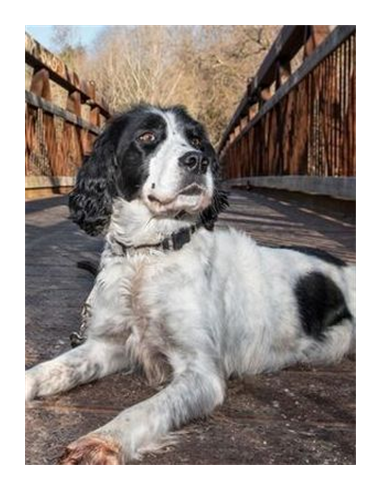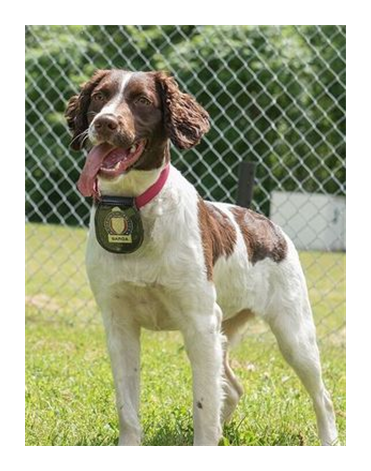 Blaze
Reilly
Memphis
Swinger
Garda

"Remi Reload is turning 9 and still a happy, very active, loving and loyal girl.
I am retired now and able to spend every day with her and her 13 year old sister.
Remi is such a special girl and I am so blessed to have her in my life."

Joanne Hepburn & Remi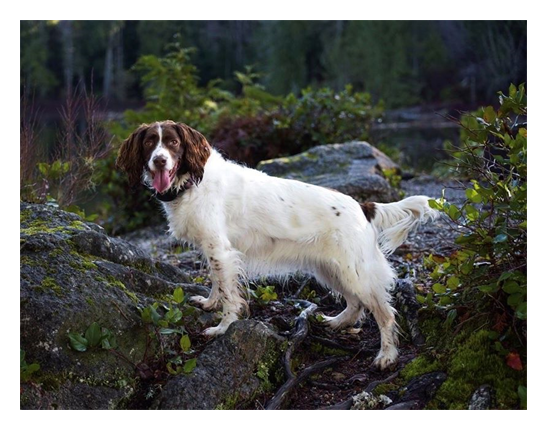 Toronto Police Canine Divison

We are extremely proud that for the past 25 years Toronto Police have exclusively selected our springers as Canine Constables in the detection of drugs, weapons, cadavers & Covid.
Every one of these springers are also family housepets of their handler.