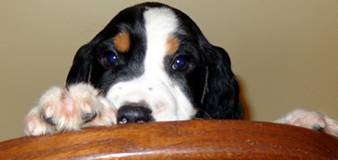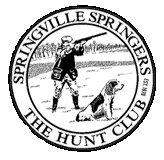 Increasingly, we are being asked to find the "perfect house pet and hunting companion". There are two guaranteed ways to get this ideal springer spaniel. Either purchase a finished gundog, or we select and develop a young spaniel for you with the following traits:
Intelligence

Willingness to Please

Disposition to match your lifestyle
We select perfect pup candidates, hold on to them for a few additional weeks. This allows us to monitor their attitude and abilities which allows us to "match" the correct pup to the appropriate family. As you can appreciate, a young family with growing children that camps, canoes and is highly active doesn't necessarily want the same spaniel as a senior who wants a house and exercise companion. We select for you the correct young spaniel that will give you 12 to 14 years of pleasure.

Please note. In addition to perfect pups and entire litters shown on this page we reserve a female and male from each and every litter listed on the pup page as perfect pup candidates...please enquire if one of these candidates is available.

The price of a perfect pup is $2000 (Cdn) + HST if applicable, unless otherwise marked. A non-refundable deposit of $1000 is required to reserve your special pup. We guarantee* your pup will be exactly what you want.

*Guarantee: If you do not believe this spaniel will work for your family (for whatever reason) within 90 days of purchase, return the pup immediately and we will replace it with another hand-picked started spaniel, no charge. The pup cannot be spayed or neutered during the 90 day guarantee period.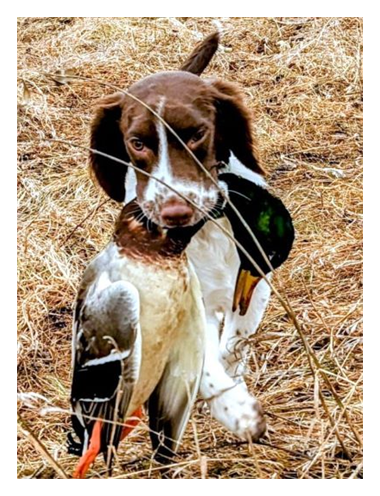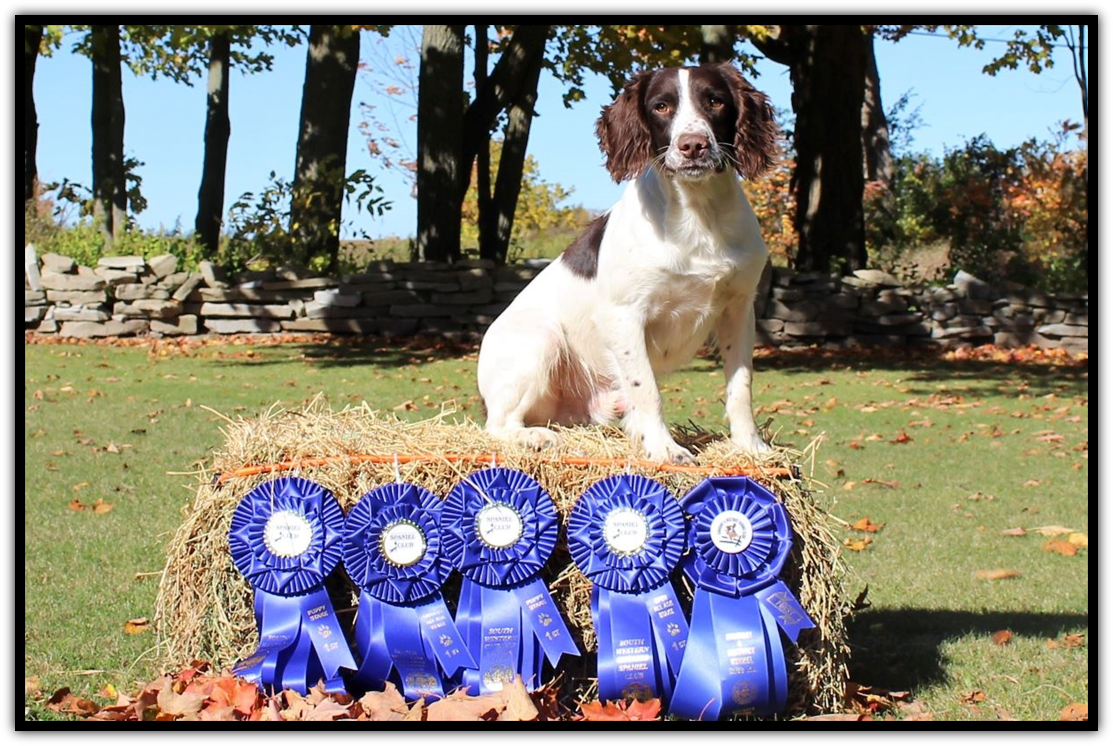 Great-Great Grandparents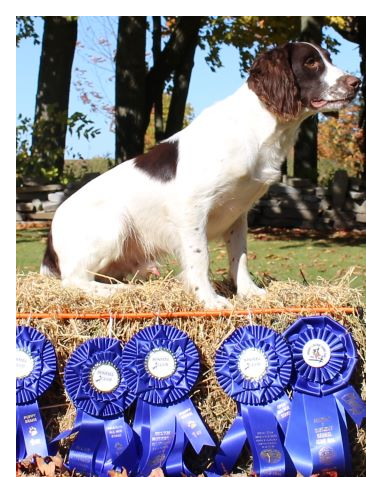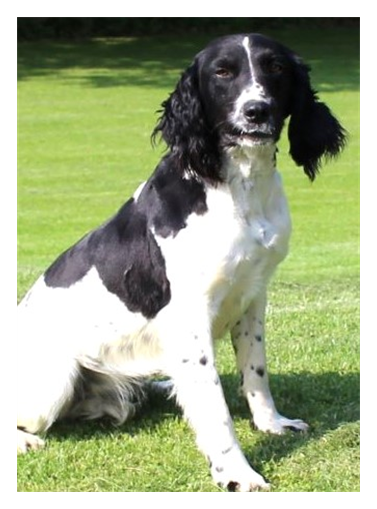 --- Coldwater Dark Side

Sadie at 3 years of age has been a housedog/hunting companion. She will be sold to the perfect family after this litter.

Hips: OFA Certified "Good"
Eyes: RD Clear
---
NFC AFC CFC
Salmy's Masterpiece
---
---
---
---
---
---
---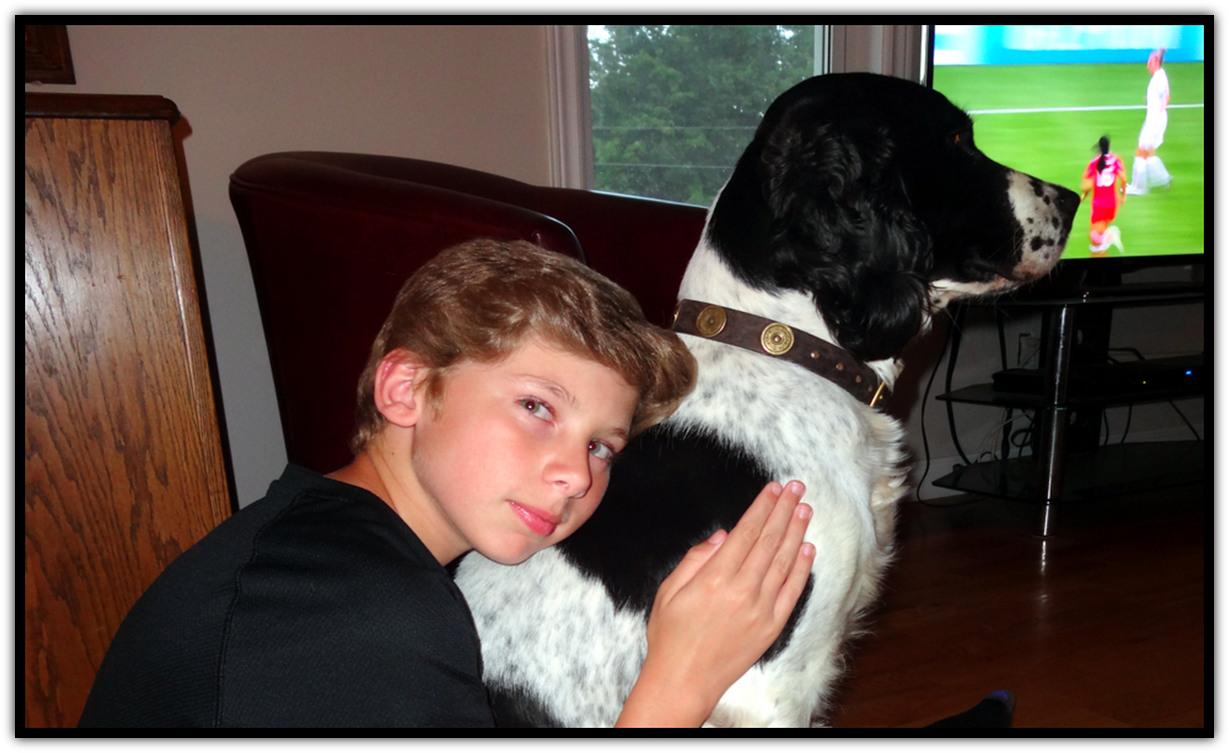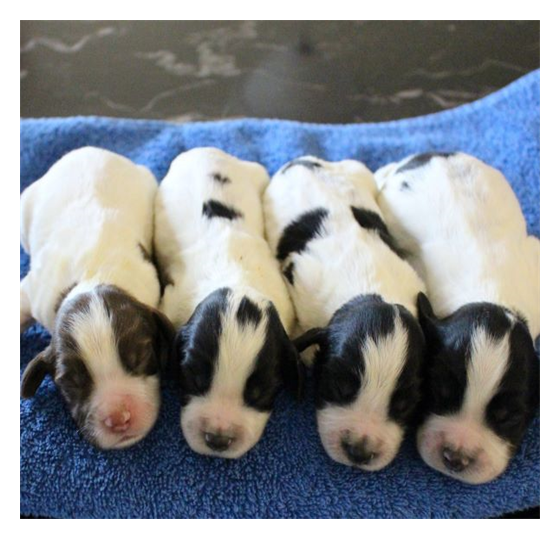 ---
---
---
---
---
Salmy's Masked Man

Dam: NAFC Majars
Black Majic

_______________________

Sage Mackenzie

NAFC FC AFC CFC
Pheasant Feathers
Black Powder JH
AFC Pheasant Feathers
Black ONYX MH
FC AFC Hellfire's
Fast Track
CD MH MX AXJ

Windrift's Ebony and Ivory Mercedes MH


P.O. Box 221,
495 County Road 21, Millbrook, Ontario, Canada L0A 1G0 Phone: (705) 932-5577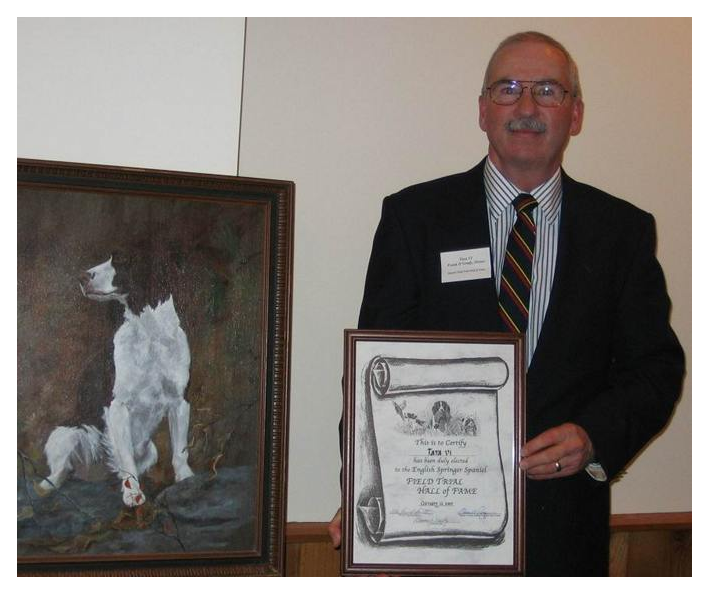 CFC Starbury Sparrow
Sam is housepet of the
Cresswell family.

Gun's Award and CM 2016
National. Sire of numerous high
quality spaniels.

Hips: OFA Certified "Good"
Eyes: RD Clear
Cumbergrove
Salcot Breeze
EFTW Rytex Ravery of Deepfleet
EFTW Cumbergrove Serendipidy
Our Tradition Continues

Since 1970 to enhance our bloodlines, we have sent many of our spaniels to be bred to the greatest springer spaniel studs North America has to offer, including the following:

1970 & 1971 NFC FC Saighton Sizzler ........... Hall of Fame
1971 NAFC AFC FC Saighton Signal
1974 & 1976 NFC AFC Saighton Slicker ......... HOF
1992/94 CNFC CFC AFC FC Pel Tan Roly ..... HOF
1994 NFC FC AFC Greenbriar Raider
1999 CNFC CFC FC Brandy's Big Ben
2000 CNFC FC Dansmirth's Parker ................. HOF
2006 NFC FC AFC CFC Mountain Evens Raeve
2007 NFC FC AFC CFC Crosswinds Warpath ... HOF
2008 NFC AFC FC BJ's Dan of Danville
2013 NFC FC CFC CAFC Salmy's Master Piece
2015 CNFC CFC FC AFC Blackriver's Tanner

2016 CNFC CFC Dawsonlee Faithful (Sam)

2018 "Purdey" will be bred this spring to a National Champion, stay tuned


Frank and Bonnie O'Grady

Email: spaniels@springvillespringers.com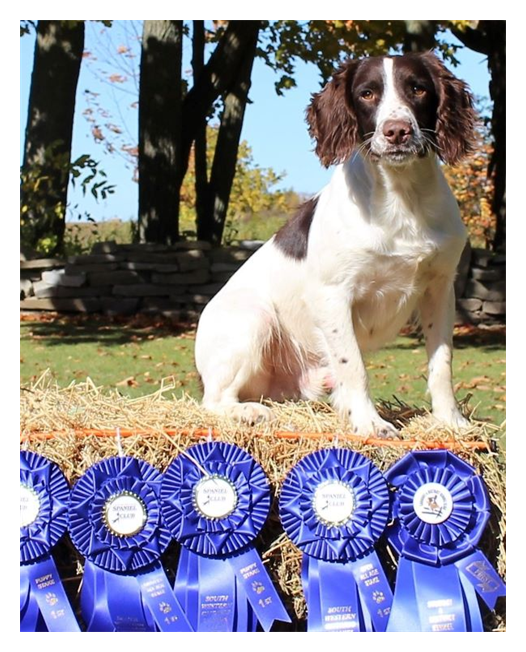 ---
EFTW Squareclose Metz
Sire: EFTCH Clarburgh Art
FTW Whitehope Serotina
Sire: INFTCH
Millshadow Astor
AFC Sandy Hill's
Beau Geste
FC Pride 'N Joys Field
Gryphon
_______________________

Fawnhavens Shining White Dove

• All pups will be liver & white
• $2,000 Cdn Funds
• $1,000 Non-Refundable Deposit required
• 3 Females reserved
• 1 Male reserved
• We expect a litter of 8 pups

Planned breeding March 2018 - Trace and Chill

Sire : 2017 NAFC AFC CFC
Southaven's Pathfinder

"Trace" shown with Clay Earl

• $2,000 Cdn Funds
• $1,000 Non-Refundable
Deposit required
• 2 Females reserved
• 1 Male reserved






Narvin's
Coldwater Chill
Sire: CFC AFC Belwind Willie
Dam: Narvin's Cinnamon Princess